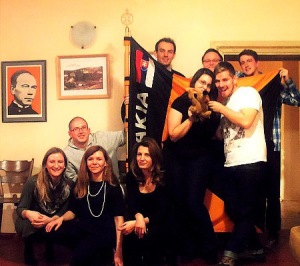 From 27th till 29th November 2015 meets the board members of Kolping Youth Europa and the engaged youth leaders from 5 countries in Stiavnicke Bane, Slovakia.
The main goal of the meeting was to prepare the strategy of the youth work and the time schedule for the year 2016. The participants discussed also the possible statutory amendment.
The most important planned meetings
· WORLD YOUTH DAY (WYD) 
in Krakow/Poland (24-31.07.2016)
· MEMBERSHIP MEETING OF KYE
in Alsopahok/Hungary (22-25.09. 2016)
Tasks for the next period
· Improve the international work – we have more and more participants from many countries
· Strength international activities
· Exchange our experiences
Another topics
· Geocaching – explaining of the action
· Job shadowing – offered by Erasmus+, discussion and big interest among the members
Information about additional international meetings prepared with cooperation with single countries comes soon!
During this meeting was held the Skype conference with Kolping Youth Serbia, who organized on the same time the team building seminar an the 14. anniversary of the founding Kolping in Serbia.
Patricija Kwapik, Polska